Taskforce Marketing
The Taskforce Marketing supports all members of TUM: Junge Akademie on issues of public relations and marketing. We work together with the other Taskforces as well as the project groups in this regard and create the relevant media. Our main focus is to make the TUM: Junge Akademie more visible to students and employees at TUM as well as to potential partners and employers outside of TUM.
The members of our Taskforce are active in many places, where they constantly seek to improve the presentation of the TUM: Junge Akademie and bring new concepts and ideas to life!
If you want to participate in our current projects or introduce your own ideas we happily welcome you in our team!
You can contact us at any time via marketing@ja.tum.de.
Taskforce Lead
Class 2022
Aastha Chandiwala
Electrical and Computer Engineering
Seong-Min Jun
Informatics
Julius Maximilian Miers
TUM SoM
Christina Schwalm
Architecture
Class 2021
Eva-Madeleine Schmidt
MSE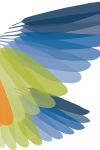 Josephine van Delden
TUM SoM
Taskforce Seniors