Exfluenced
We need your help!

We are currently conducting a study to get a better understanding about if and how our detox program impacts social media users' usage. The first 50 participants will get 20€ for their time in addition to full access to our detox program! But wait, there's more: Among all participants we will do an additional prize draw for four 40€ vouchers. So don't miss out to sign up on our website!
LATEST UPDATES
Our Instagram awareness campaign is well on its way: After its launch on June 1st, we managed to accumulate over 1000 followers! Although this might seem like a small milestone, it also shows a growing interest into our project. Going forward, we are looking to improve the content we share with our audience and want to start engaging with our community more actively.
Additionally, our instagram page continues to provide you with helpful and inspirational information through different infographics and fun memes. Meanwhile, you have conducted multiple interviews with experts to share their insights with our audience. We are planning to do many more interviews in the future and are beginning to reach out to a wide range of interesting persona from politics, academia and social media.
We have also launched our detox program together with a study to investigate the impact on our users' social media usage.
Be sure to check us out if you have not already!
OVERALL GOAL
Our project examines social media, in particular Instagram, holistically and deals with topics including the rise of influencers, mental health concerns and the spread of vicious misinformation on these platforms.
We started by thinking about our own experiences and asked ourselves questions including:
How do different subgroups, especially political players, use social media to influence people for their advantage? Do certain parallels exist between political and non-political influencers?
Is there a connection between concerns about the social media users' mental health and their usage? What are approaches to combat these issues?
Are users still happy with these platforms and how they use them? What does it take for users to be more aware of the way they interact with these networks?
Let's examine the magnitude of the issue and raise awareness!
Project progress
After a period of intensive research, we have developed an interactive social media program that will help our users perceive their social media feed more critically. The program includes a variety of lections specifically designed to offer new perspectives on our social media use.
Users will take on the role of an influencer for one day, reflect critically on their own usage and learn to see the world of disinformation on social media from a journalist's view. These lections introduce crucial phenomena about our online behaviour like FOMO, the infamous fear of missing out, and the addictive mechanisms that social media apps make advantage of.
The most important thing is: Instagram in itself is not bad – our relationship with it is. So we hope to help people make it healthier.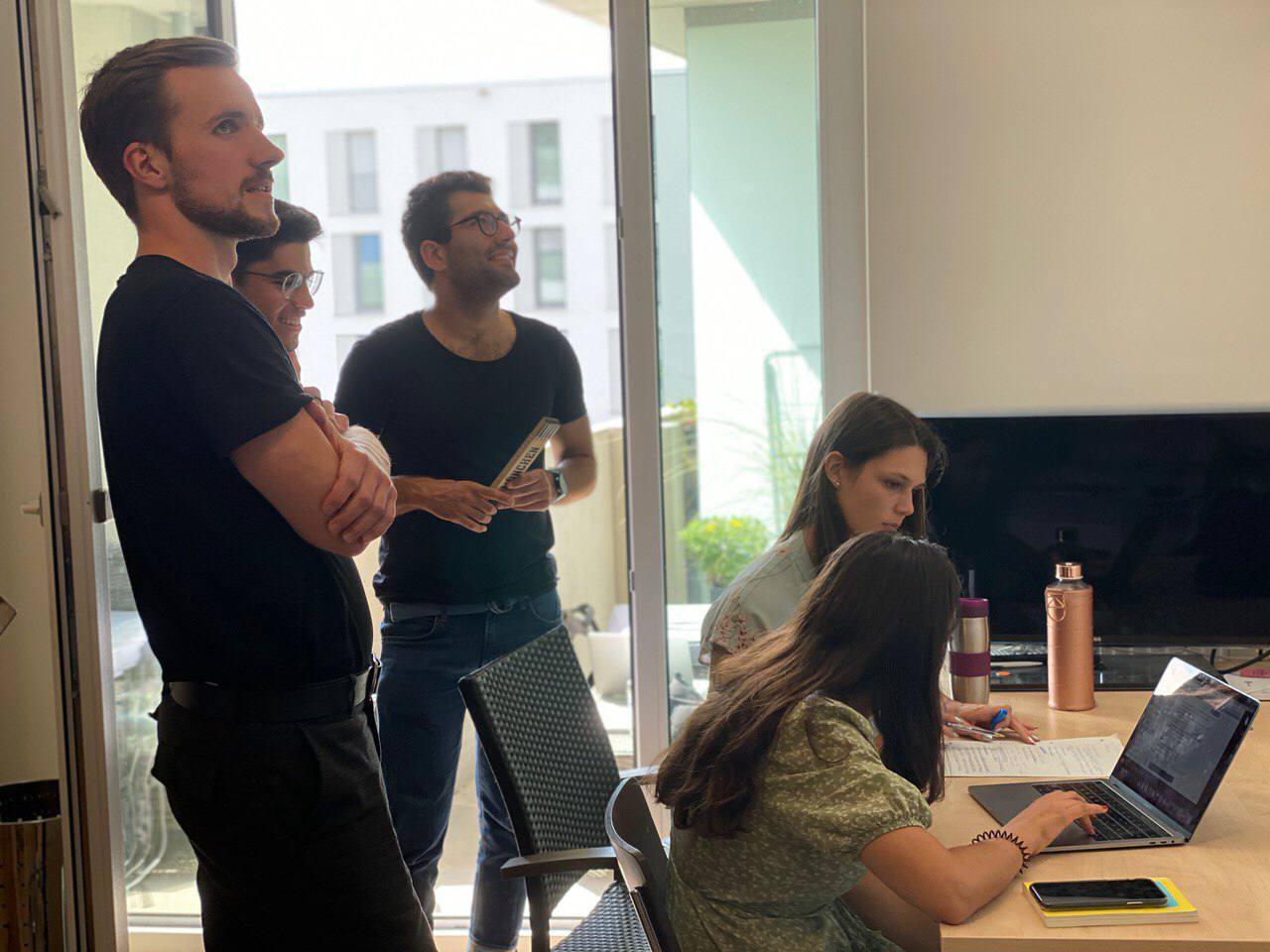 Our team during a productive meeting working on our social media detox program
CORONA TIME
Our project came at a very interesting time in history – we can't meet up and discuss our ideas in person, and a lot of (young) people rely on social media to combat the feelings of loneliness and boredom. Social media usage has grown – people's awareness of what they are reading or seeing hasn't. There are as many false claims by non-existent doctors and people about the virus as there are real ones, and it's not always easy to distinguish between them. We feel that our mission is as important es ever. People need to be more aware about the information they consume and believe, especially when it comes to their health.
TEAM
From left to right: Andrea, Laura, Marie, Christopher, Deniz, Omar, Len, Maryna, David
Christopher Ebert
Deniz Bezgin
Len Brandes
Andrea Weiller
Maryna Shcherbak
Marie Huemer
Omar Eldeeb
David Noachtar
Laura Ballentin
TUTORS
Jakob Scheffels
Christos Gazanis
SUPERVISORS